Welcome to Wolfville -

May 22 - 25, 2012
thank you for your feedback! it will help make apla the best conference it can be!
---
Well it's almost here and it'll soon be time to head out…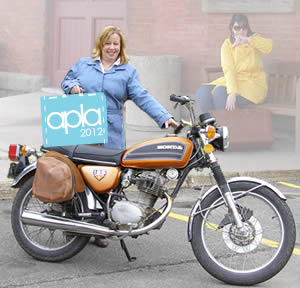 To Wolfville for APLA 2012: Discovering Hidden Treasures
We have lavish local food, sensational sessions, keen keynotes, entertaining exhibits and lots more and we can't wait until you get here!
Here are some important updates and details:
1. Parking: parking can be tricky on campuses. We have arranged for two designated lots on campus for all APLA participants. From Main St. in Wolfville turn up Highland Ave. There will be a sandwich board on the corner. Drive all the way up until you see the another sandwich board to direct you into the lot. Cars at unfilled meters or in other lots on campus will be ticketed -- and we don't want that!
2. X marks the spot: use our campus map and look for conference signage and sidewalk chalk directions throughout campus to help you get to your destination quickly!
3. Registration Desk is in Fountain Commons with the Exhibits. Registration Desk Hours are: Tuesday 3-8pm, Wednesday 8-5pm, Thursday 8-4pm. Exhibits are: Wednesday 10am-5pm and Thursday 9am-4pm.
4. If you are staying on campus, you can pick up your room key at the registration desk in the Fountain Commons, but if you arrive at a time when registration isn't open please contact Residence Life at 585-1221.
5. If staying in residence make sure you bring an internet cable to insure you have internet access from your room. Common areas such as Fountain Commons, Patterson Hall, Wheelock Dining Hall, the KC Irving Centre and, of course the library, all provide free wireless access.
6. Take time to do some sightseeing: Farmers' Market, downtown merchants, even a new a shoe store (Mahone Bay Shoe Company), new jewelry shops and an awesome old one (Serendipitous and Herbin's) and our new Pete's!
7. Enjoy the apple blossoms, lilacs and all the other blooming varieties, but if you have spring allergies, bring your meds.
8. Bring an umbrella, sunglasses, and walking shoes – since it is a campus event and not in a hotel, be prepared for the elements – oh and don't forget your dancing shoes!
9. Please print your program in advance or download the schedule app to your favorite device and help us be green!
10. The Cash bar is truly a cash bar, no visa or debit. Wolfville has Royal Bank and BMO downtown.
11. Make arrangements for Thursday night dinner: check out the great list of choices.
12. Remember to join us at the historic Acadia Cinema for free popcorn and "Desk Set" on Thursday night. Cash bar opens at 7:30 and you can bring your drink into the theatre.
13. Use the hashtag: #apla2012 to tweet about conference sessions and events.
---
Here's a video to get you started using our new scheduling software for the conference -- give it a try, it's lots of fun!
---
Registration is Open!

* Registration fee includes all lunches, coffee breaks, the Opening Reception and the Merit Award Banquet!

REGISTER ONLINE!
or download a printable version and mail it to:
Melissa Kendrick, Treasurer APLA2012
Vaughan Memorial Library
Acadia University
50 Acadia Street
Wolfville, NS B4P 2R1

or Fax to 902-585-1748 Attn: Melissa Kendrick - Treasurer, APLA 2012.

Don't forget! If you become a new APLA member or renew your current membership, you save even more!
---
Volunteer at APLA2012!
Volunteers are a hidden treasure! Without volunteers doing all of the not so little things in front of and behind the scenes a terrific conference just doesn't happen! There's lots of fun things you can do to help at APLA2012.