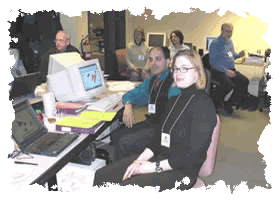 Welcome Back to Acadia for DLI 2004!
Training for Atlantic Canadian DLI Contacts
On April 22-23, 2004 Acadia University once again welcomes Statistics Canada DLI Contacts in the Atlantic Provinces to their annual training workshop.
Remembering years past
Curious about past workshops? Information form workshops since 1999 is still up on the web. Go to our Archive to have a look. and even review what we did last year.
What's new this year?
New trainers, new DLI contacts, new participants, new products, new developments and … Wolfville without snow!

Revised: April 16, 2004