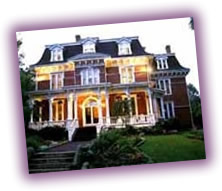 The Blomidon Inn will again be the "official" site for workshop accommodations. The rates are excellent and all the rooms are lovely. Remember that continental breakfast is included as is afternoon tea between 3:00-4:30. So try to arrive early enough on Wednesday!
Please note that you are responsible for making your own booking. Call the Blomidon Inn (1-800-565-2291) and let them know you will be attending the DLI workshop at Acadia. Rooms are being held for the workshop. Rates are as follows:
Modest rooms -- $89.00 + HST (single); $99.00 + HST (double)
Regular rooms -- $109.00 + HST (single); $119.00 + HST (double)
Superior rooms -- $129 + HST (single); $139 + HST (double)
Bookings for these should be made as soon as possible. For further information, see the Blomidon website.
If you would like information about accommodation elsewhere, just let Mary know.